Acid Definition Chemistry (Define Acid)
The term acid and base have been defined in different ways, depending on the particular way of looking at the properties of acidity and basicity. Arrhenius first defined acids as compounds which ionize to produce hydrogen ions, and bases as compounds which ionize to produce hydroxide ions. According to the Lowry-Bronsted definition, an acid is a proton donor and a base is a proton acceptor.
Base Definition Chemistry (What is base?)
The ionic compounds that produce negative hydroxide (OH−) ions when dissolved in water are called bases. A compound containing negative nonmetal ion as well as a positive metal ion that is held together by the ionic bond is called an ionic compound.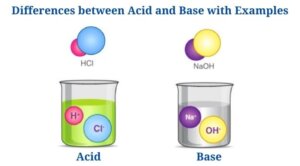 Differences between Acid and Base with Examples
(Acid vs Base)
Acid and Base Citations 
 https://brainly.com/question/2624790
https://www.microchemicals.com/products/etchants.html
 https://quizlet.com/136496265/chapter-18-flash-cards/
 https://en.wikipedia.org/wiki/Acid%E2%80%93base_reaction
https://chem.libretexts.org/Bookshelves/General_Chemistry/Map%3A_A_Molecular_Approach_(Tro)/16%3A_Acids_and_Bases/16.04%3A_Acid_Strength_and_the_Acid_Dissociation_Constant_(Ka)
 https://brainly.com/question/3458136
Related Posts